​

​Ecurie Aux Quatre Vents - Aux Quatre Vents Stables
Élevage de chevaux Oldenburg- Pension-et consultation secteur equin et gestion d'opérations
Notre élevage ldenburg - Our Oldenburg Breeding program

​
MG-Dom Pérignon par Donarweiss GGF et Star Pr Winrianna, 29 mars 2013
MG-Dom Pérignon by Donarweiss GGF out of Star Pr Winrianna, march 29th, 2013
Aux Quatre Vents Oldenburgs
​
L'année 2006 marque le début de notre élevage de chevaux sportifs de qualité internationale et l'ouverture d'un centre d'excellence en dressage avec service complet de pension, d'entrainement et de développement des jeunes chevaux. En tant que jeune éleveur québécois, nous voulons offrir quelques poulains par année issues des grandes lignées européennes à nos clients situés partout en Amérique du Nord. Notre mission est d'offrir un cheval de sport sain avec un caractère exceptionnel au potentiel illimité au cavalier amateur et professionnel d'aujourd'hui. À cet effet, nos poulinières et les étalons sont soigneusement choisies en rapport à leurs capacités physiques et psychologiques de manière à donner des poulains de qualités et avec de « bonnes têtes ».

​



​
Notre philosophie d'entrainement
Our training scale
Tous nos chevaux sont soignés...comme des chevaux, ils vivent dehors tous au long de l'année jusqu'à leur 3 ans.
Une fois l'entraînement commencé, par un entraineur indépendant à nos opérations notre premier réflexe est d'écouter notre cheval et de combler ses besoins. Jamais nous ne pousserons un jeune cheval au delà de sa disposition du moment. Nous les observons grandir et nous leur laissons le temps qu'il faut pour grandir, afin qu'une fois une phase de croissance passée, ils nous donnent tous le meilleure d'eux même.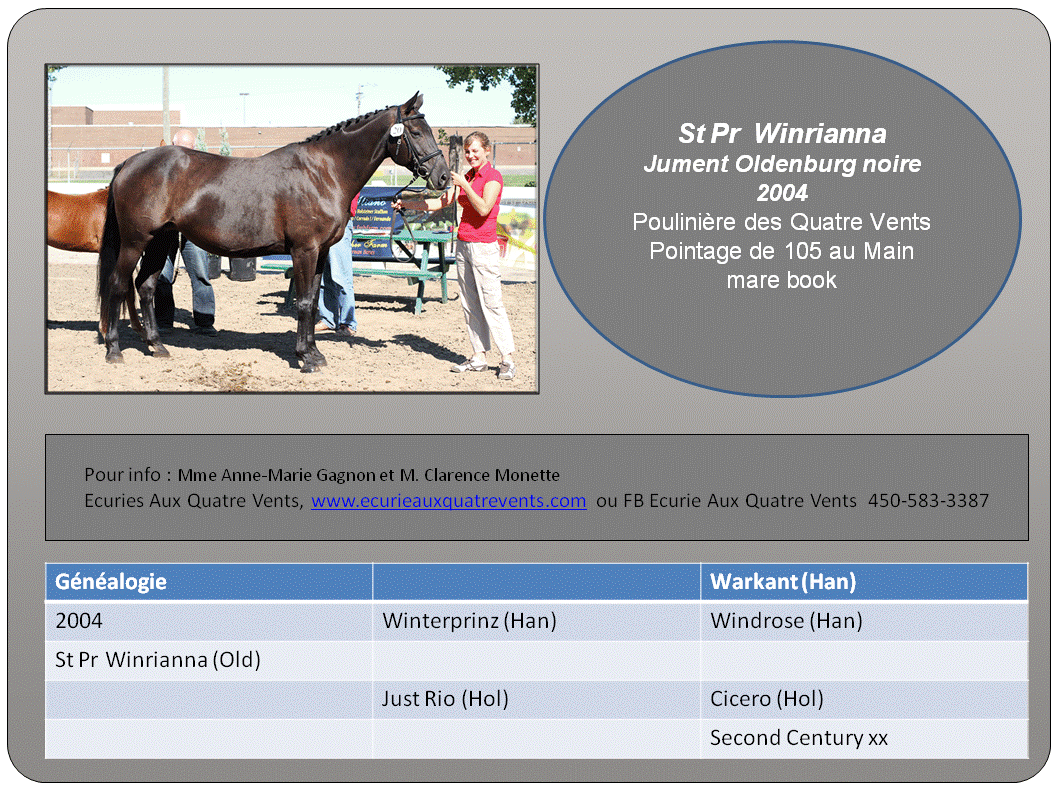 Nos lignées fondatrices
Our breeding foundation
Les lignées Aux Quatre Vents:

*La lignée R (Rubinstein)

*La lignée W (Weltmeyer)

*La lignée D (Donerhall)
​
*La lignée F (Florencio)
​
*La lignée de Ferro
​
​
Nos juments poulinières
​

Star Pr Winrianna par/by Winterprintz et/out Just Rio
Winterprintz, the son of the outstanding Warkant, 2002 stallion of the year of the hanoverian Verband at Celle typifies the very best of the Hanoverian breeding.​
Star Pr Winrianna (Winnie) is a caring mother who transmits her excellent conformation and gaits to her progeny. She received the score of 105 at the 2011 Oldenburg NA inspection. She is the 4th best Oldenburg NA mare in Canada. So far, she has produced premium babies. Her newest son, MG-Dom Pérignon by Donarweiss GGF is going to shine at the 2013 inspection. He will be offered for sale as a stallion prospect after weanling.
​
​​
​​Singh For Me Retired Broodmare
Roman Diplomat is an exquisite thorougbred who brings elegance in all three gaits. Singh For Me has produced 6 babies in our breeding program and has proven to be a consistent producer of Superior movement foals. To her credit, at our farm she has produced a Grand Prix Prospect (MG-Rendez-Vous) and FEI level Young horses (Royal One, MG-Rhapsody in Blue and MG-Renaissance). Her latest, MG-Revelation and MG-Sissi will upgrade the lines in our breeding program. Both Young fillies were awarded premium status by the GOV and the Oldenburg NA registry.
​
​
​
​​​​​​​​
​
Pr MG-Florencia-2011
​
By Florencio Son, this amazing 2011 filly was the highest scoring Champion in Canada. She will start her work Under saddle in 2013 and will be bred in 2018 to the amazing Sternlicht GGF.
​
​
​
​
​​
​
​
​
​
​​​​
​​
​
​
​
Flora-2011
​By Florencio Son shows strenght and elegance. This filly has a powerfull hind end and will certainly upgrade our breeding lines.
She will be stared Under saddle in 2013 and will be bred in 2018 to Negro (Sire of Olympic Champion Valegro).
​
​
​
​
​
​
​
​​
​
​
​
​
​
​
​
​